What should you expect to pay for a WMS and what is the ROI on a new WMS? To answer this involves a good bit of digging for the truth, but the WMS price guide 2022 is here! First, what do you require of your WMS? How long do you plan to use it? How many users will be on the WMS? Will you have a perpetual or cloud-based license? This WMS price guide 2022 aims to outline and answer these questions and more to help you determine costs, returns, and timelines to implementation of a new WMS.
To put this report together we have used multiple references to gather specific information related to the pricing, implementation, ongoing costs and expectations. Our information was gathered from a variety of sources including:
Explore WMS

Software Advice

Kenco Group Blog

Select Hub
We also conducted a few interviews with tier 1 WMS providers, and have included our own pricing for SKUSavvy into the mix based on what we've seen come up in different scenarios.
Implementing a WMS can be quite an undertaking when you consider the importance of the system and data necessary to change over. You may start the planning for this project a year, maybe two in advance for a large operation. With that sort of planning, certainly one of the considerations will be the budget you intend to put toward the project. In that budget, you will consider the benefits and features you expect to receive from the new implementation. Of course, the cost is not the only consideration here. Future business opportunities, new divisions, new product lines etc. will all be factored in to decide what the best WMS for your business will be.
Get the WMS ROI Calculator
So, what should be considered within your WMS price calculation? Certainly, you don't want to be stuck with one option, so it's encouraged to seek out a few bids, and go with the provider which has the best mix of benefits and features for your business. Below are a few of the points we'll be going through today:
Cloud, on-premise, or hybrid?

Feature selection to include in your WMS

License type: perpetual or subscription

Installation and customization charges

Per-user, per month, or tiered ongoing charges

Wrapping it all together
WMS Price Guide: cloud, on-premise, or hybrid?
This may not be a big factor for your company. However, for others, it is a major consideration. If you have been used to running software on-premise this may actually be a great time to move toward a cloud deployment. Some companies get nervous about this since they are no longer directly in control. However, the advantages of a cloud-based model are recovery speed (from a disaster), deployment simplicity, innovation, and access. If you're looking toward the cloud but still want the peace of mind that on-premise provides, perhaps you would consider a hybrid deployment. This will still give you the advantages of a cloud server, but you will also have a server in-house to sync data back and forth with. An on-premise deployment generally is more expensive since the provider will need to provision a license and launch the application locally. This may involve having someone come to your location. It will also likely require your own in-house resources to keep the server and software updated. So, with a brief introduction to those three elements, let's take a look at how the price of your new WMS varies with the type of deployment.
Cloud
This is by and large 'the' way to launch a new WMS. This is for a variety of reasons as I mentioned, but certainly one of the bigger reasons is it's just cheaper to do it. With a cloud deployment, there are no added costs of having someone on-site. There are no servers to maintain. And, you have access wherever and whenever you need it. Typical cloud deployment is going to include 6-12 months of your monthly amounts in the up-front amount. So, if you are implementing a WMS, and the monthly amount for your system will be $1500/month, you should expect in the neighborhood of $9,000-$18,000 in up-front setup costs. Much of the up-front amount is simply for the setup, customizations (which I'll go through after), and training.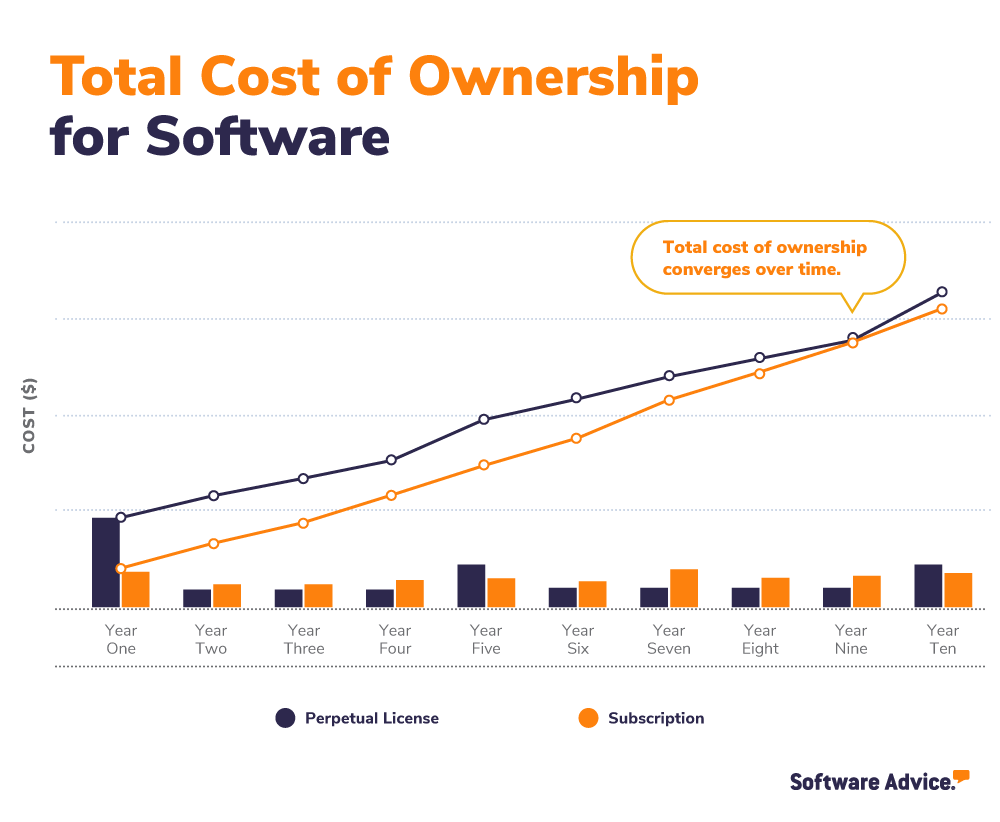 On-Premise
This method is still widely used in the enterprise. Whether a security reason or simply because this is the infrastructure already in place. While there is nothing particularly wrong with an on-premise deployment, it simply requires more resources that may or may not be available. Another reason many companies are switching from this deployment model is the need to acquire a perpetual license. This can be quite expensive, though the longer-term costs may end up being lower. A scenario might look as such: you buy the license for $75,000, pay your initial setup fees of $20,000, and have an annual renewal fee of 10-15% of the cost of the license ($7,500-$11,250).
This is more expensive up-front, but over time it becomes more affordable and eventually, it will level out while actually becoming cheaper than a cloud deployment. Of course, this is only taking into account the software costs. What's not included here is the in-house IT staff needed to keep the servers running and security updated. This also assumes you already have the servers needed to make it happen (which could run into the 10s of thousands for a large business). As you can see, there are benefits to an on-premise deployment, and at a certain size, it may be the best option. But, that comes with drawbacks that you will want to fully plan for.
Hybrid
A hybrid deployment will give you the benefits of both cloud and on-premise, without some of the costs associated. A hybrid environment uses an on-premise server to communicate with (typically) a virtual private server in the cloud. This is used to have the data stored locally, but then it communicates with the cloud server to sync data between your other on-premise servers. This also helps with backup and recovery as well as scaling up during heavy loads.
The drawbacks of hybrid come with many of the same issues faced with on-premise since you will still need the servers themselves, and you may still need to buy the perpetual license for the on-premise servers. In this case, you may end up paying for a mix of cloud and on-premise costs. It comes with benefits but at the cost of having to maintain both the cloud and the on-premise infrastructure.
If you already have servers in-house but are looking to migrate to the cloud, you may choose to use these in-house servers simply for storage capacity and backup. This will eliminate the need for purchasing the license, and still provide the peace of mind that on-premise can have.
Depending on the WMS provider, you may be able to get away with letting them use your on-premise serves as an extension of the cloud servers. This will ensure you have more performance and less latency between your locations.
Costs to deploy on a hybrid environment will likely end up as a mix of price between the cloud deployment and a true on-premise deployment. Depending on the company handling it, you may find they will launch without you needing to buy the perpetual license. At least this is what you should go for. There may be some sort of additional upfront charge to handle the hybrid deployment, but this will be cheaper than going with strictly an on-premise system.
Experienced WMS users will tell you that you'll spend far more making up for shortfalls in an ill-fitting "cheaper" WMS than they would have buying the proper one from the start.
From the Kenco blog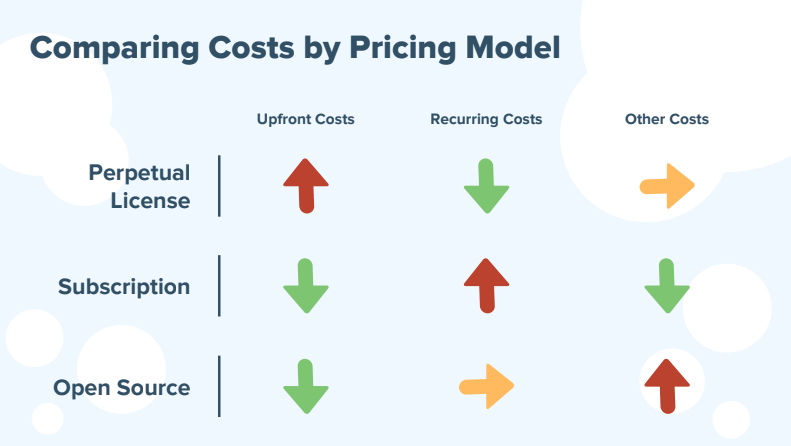 WMS Price Guide 2022: What features do you need?
There should be three things you consider in the feature selection for a WMS. First is the business as it currently stands. What do you need to continue making things happen? Second, you want to look at areas you want to improve. Maybe the picking process is very manual or you realize a lot of time is spent correcting inventory adjustments and differences between product sent and product received from the supplier. Finally, you want to look at the possibilities. If you had the ability to route trucks as part of the WMS, can you get more deliveries out faster? Is there a new client who will need you to handle kitting and packaging that you couldn't handle before? Perhaps a new business line requires the tracking of safety data sheets and this will be operational with the new WMS. Whatever it is that you need out of the WMS, should come directly from these three buckets. But, just in case you aren't totally familiar with some of the modern features of the WMS, below are a few things to think about.
Included & Additional Fee Features
Many WMS platforms will have the essentials to handle business. However, many times you will end up paying for additional upgrades and capability within a specific feature set. Below are the features you should plan to be included. If some variation of these is not included, you may want to check other vendors:
Receiving and Put-Away
This allows you to place the purchase order or create POs automatically with the vendor. Must enable you to check-in product, and have it allocated to a location within the warehouse. For SKUSavvy clients we include PO generation, product check-in according to PO, and allocation of inventory to 'Pods' which are generally speaking an aisle, bay, and bin combination. Lead timing is another consideration here, but you will likely be paying extra for this functionality. In the case of SKUSavvy, creating POs and the workflow surrounding this capability is included in the cost as a single order between $0.19-$0.04 per order depending on order volume.
Inventory
Being able to keep track of products, kits, item inventory, pallet-case-single relationships, kitting, bin locations and multiple SKUs per bin should all be included. If you have complex products or need further information such as batch or expiration tracking, you may be paying extra as not all WMS have this in place.
Order Management
Most systems will enable you to connect your various channels together with orders syncing up to be picked. This will also combine orders placed within the system, and perhaps (see below) enable you to handle field sales through an app. SKUSavvy leverages Elastic.io to enable over 1000+ integrations so everything flows to one place. Many times you will pay more for having multiple channels flow into your WMS. Some plans will include 1 or 2 integrations, but you will need to upgrade for more.
Pick & Pack
One of the core pieces of a WMS, the pick and pack features enable employees across your warehouse network to be allocated products to pick as part of an order batch. The system will do a few things: allocate orders across your employees, sort the picking into wave/batch/zone or other picking methods, provide the location and quantity of product to pick. This should no doubt be done with either an RFID or barcode scanner. In SKUSavvy, this is handled directly through the app with no hardware necessary to scan. If you have custom layouts, or if you are interfacing with robotics for picking, this will add to the price of the WMS. This is where you should look for more info on robotics in the warehouse. For packing, you may get some functionality out of the box, but things like weight, box sizes, or tape requirements will likely be an addition.
Address Validation & Shipping
This part of a WMS is likely handled with a 3rd party service, or directly integrated with the major carriers. Within SKUSavvy we utilize ShipEngine, which is the backbone of ShipStation, Stamps.com, Endicia, and others. Most will offer you multiple shipping options, as well as label printing. If you have a custom carrier option or multi-step shipments, you will likely need some customizations to make this happen. For wholesale distributors with your own fleet, you will most often have to get separate software to handle routing and proof of delivery. SKUSavvy is one of the ONLY WMS platforms to include this as part of the end-to-end capability to manage and distribute products.
Returns
This may or may not come standard on a WMS since very often companies will utilize a whole separate order orchestration for this. Some of the tier 1 systems have advanced modules to handle returns from multiple channels and to deal with them differently. Most WMS will include some sort of return functionality, but for more advanced products (mobile phones with license plating, auto parts, industrial supplies) you may need to buy a separate module. For a tier 1 system modules will run anywhere from $10,000-$50,000.
Reporting
All WMS will have some sort of reporting dashboard or exports you can utilize. For in-depth reports on a specific area of your business, you may be looking at additional costs for those reports to be included. Alternatively, many companies make a connection with their accounting and/or business intelligence software and have this flowing so they can make their own custom reports dynamically.
Employee Management
You need a way to allocate people to specific tasks within the warehouse. The WMS will cover a part or all of this. It is more the job of the ERP/accounting & payroll software to manage time and payments. If you need to include this in your WMS, you will look to pay additionally for a module to be built out and customized to handle your needs here.
Warehouses & Asset Management
Most WMS platforms enable you to input all your warehouses, though some may charge on a per warehouse basis. The WMS should be able to handle stock transfers between locations, and some will pre-emptively allocate material from one location to another based on demand. Furthermore, if you are running a fleet, you'll need a yard & fleet management module, or separate software to plug-in with your WMS to manage these assets.
Software Price Specifics
Below are some specific pricing options for tier one and tier two systems. We want to include as much actionable information as possible for the WMS price guide 2022 and have included information from Select Hub here.
View the Full Shopify Inventory Management App Comparison Guide
License type: perpetual or subscription?
I'm not going to talk a lot about this since it is covered mostly in the cloud vs. on-premise vs. hybrid section. But, since it is a big consideration here are a few valid points to consider.
Perpetual
This license model means you are actually buying the software outright, and pay yearly for upgrades that the company has made. The perpetual model is characterized by an up-front customization amount, the license fee itself, and some sort of yearly maintenance fee. For tier 1 WMS, the license fee will rarely cost below $30,000 and can go as high as $60-$100 thousand. As I mentioned above this will usually lead to more initial costs, but it will come out to be less expensive over 5-10 years time. The yearly maintenance will generally be between 10-15% of the license costs. The only real reason to pay for the perpetual license is if you've got an in-house team who will make changes to the source of the software. This in a sense makes it your own so you can do as you wish. The other benefit here is that you don't have as many variable costs as you grow in size, since a subscription model will usually add costs as you add people.
Subscription
Certainly the most popular type of purchase for a WMS in 2022 is the cloud model. It is popular because you will keep up-front fees lower, you get more updates, and generally, the monthly costs are kept reasonable. The monthly amounts are reflective [usually] of the size of your business and how many people are actually using the system. There may also be different levels for a subscription model. The base tier could be with up to 5 users and 1000 orders per month, whereas the premium tier will offer unlimited users and orders.
The range in price for a subscription will start around $5,000 (or $0 up-front) and for up to 5 users may only be $200-$800/month. With $0 down, you will unlikely have any customizations done, and have to rely on the existing functionality of the system. The other option which is many times included with modern systems is the ability to connect with their API (application programming interface) to extend the functionality of the system with an in-house development team.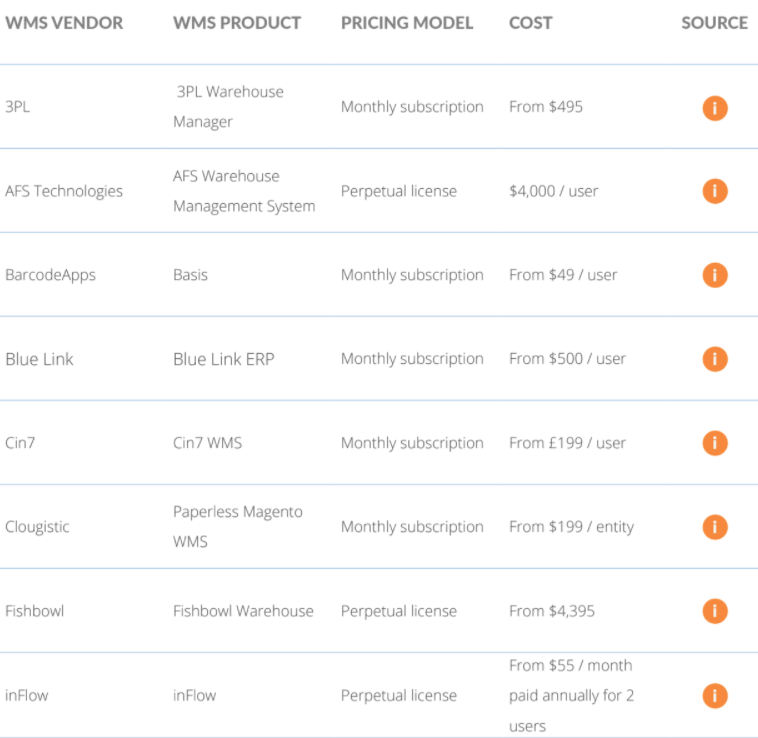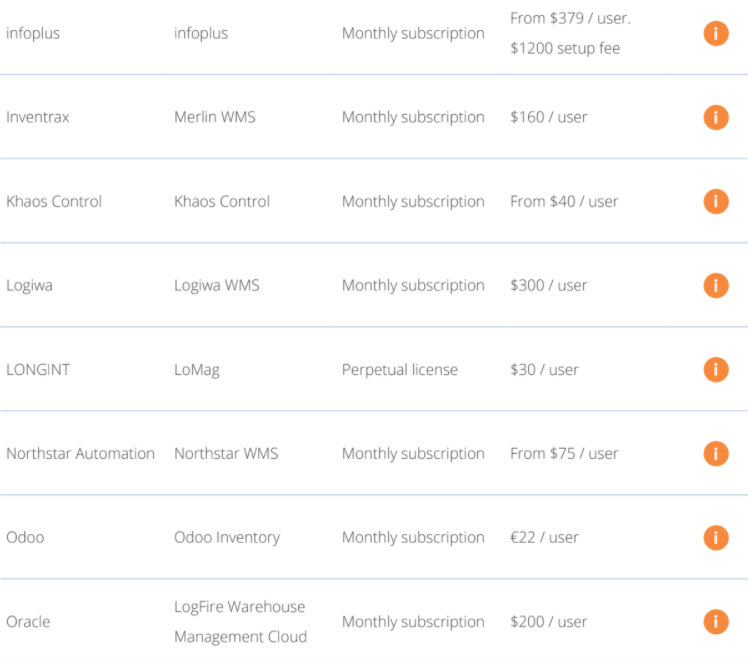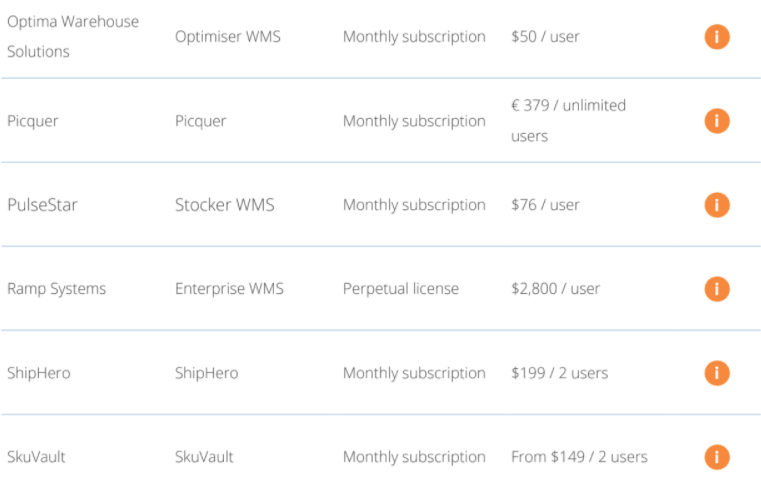 Installation and Customization Charges
This is an area that can vary widely. For the WMS price guide 2022, we need to limit this section to a few examples, which you can extrapolate out for your own situation.
Scenario #1
You need to add a production module to the WMS to track raw inputs to output volume then add the finished product to on-hand inventory. This may be a scenario that some WMS already have available (a light manufacturing WMS) for you, but likely its a different product or new module entirely. For creating this as a new module to your new WMS, you'd be looking at something like:
Base WMS – $3,500-$9,000

Mid-range WMS – $10,000-$18,000

Tier 1 WMS – $30,000-$40,000
Scenario #2
You need to customize the picking and packing functionality for a specific type of product to be dealt with differently. This happens and it could be simple or complex, but regardless the existing picking module won't work and will need to be customized.
Base WMS – $2,500-$5,000

Mid-range WMS – $5,000-$10,000

Tier 1 WMS – $15,000+
Ongoing Cost Structure
For the WMS price guide 2022, it's important we take a look at the various methods companies will charge for the ongoing use of the software. For this, we are particularly focused on the cloud model.
Flat Monthly Fee
This pricing method usually has a fee paid which includes so many users, so many orders, and/or so many locations. Below are a few prices and what's included from a few of our competitors
Per-user Per Month Fee
This is perhaps the most common form of the monthly charge. It's also one that's most in line with how companies work. The more people you have working on the software, the larger the company, and the more value the software has for you. Below are a few examples of a per user per month price. This WMS pricing guide 2022 is focused more on the small and medium-sized enterprise.
Tiered Monthly Fee
Certainly a less used pricing method, but we're going to cover it in the WMS price guide 2022. This pricing method involves packaging the WMS into different 'buckets' of functionality. For example, the starting tier may only include order management, picking-packing, and shipping capability. The next tier will include receiving, up to 10 users, and 3000+ orders etc. This pricing model is less common with WMS since you typically need much or all of the functionality to make it happen. You can see a whole lot more on pricing models for SaaS (Software as a Service) here.
Volume-Based Pricing
The last, but certainly not least pricing model you may come across is volume-based pricing. This is how SKUSavvy is priced and it involves some sort of usage metrics being tracked and charged accordingly. Some metrics you might see this applied to include order volume, SKU count, API calls etc. Within SKUSavvy your usage fees come out to between $0.19-$0.04 per order with 5000 orders per month equating to $760 per month.
Wrapping it All Together
When you consider the time and expense of implementing a new WMS, it's nice to know the full picture going into it. Within this WMS price guide 2022 our goal is to give you actionable information which you can use to at least have some sort of starting point. Especially considering the last time you likely purchased a WMS the price was considerably different.
If you plan to implement in the near future, do all you can to understand the ancillary costs associated with the WMS. What are the ancillary costs associated with a WMS? These are costs like training, pattern changes, equipment upgrades you may need, scanning hardware, and similar matters. These costs can vary widely so we're not going to go through them in detail here, however, the benefits and features overview can help you sort these out.
Whatever you plan to achieve with the new WMS, we hope it goes as smoothly as possible. Remember, software and implementations can oftentimes take longer and cost more than you thought. If you want to keep things in check, plan for 10-20% higher than you figure, and then you won't be disappointed.